susan suggests : my bedside table
Currently on my bedside table:
No Cheating, No Dying: I Had a Good Marriage. Then I Tried to Make it Better
By Elizabeth Weil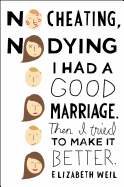 Elizabeth Weil opened her life up to millions of people in a New York Times Magazine cover story, "Married (Happily) with Issues," which she's expanded into No Cheating, No Dying. Since neither she nor her husband strayed or died in the first decade, Weil decides to use these monogamy and vitality milestones as a springboard from which to dive more deeply into what it means to be married. Marriage doesn't begin with the white dress and the party, she says; it happens over time.
Along with her brave husband, Dan Duane (also a writer), they meet with marriage counselors and attend self-help seminars and marriage education classes. Along the way, they tackle religion (she's Jewish, he's not); family (he's not crazy about hers); money (not much on either side); and food. Food turns out to be a biggie; Dan is obsessed with developing a culinary mastery of the obscure--think pig and lamb carcasses in the basement freezer.
Weil is a skilled writer, easily sharing intimate details and heartfelt emotions in a compelling, sometimes self-deprecating, manner without sinking into victimhood or judgment. Some of her marriage trials are hysterical, others painful, but she relates them all in equally clear, compelling, honest language. Much like Elizabeth Gilbert's Committed: A Love Story, though, you pretty much know the outcome; what hooks the reader is the enjoyable exploration of the many possibilities on the way to that ending.
In Short: One woman's irresistibly sincere quest to make a happy marriage even better.
Book Review: Learning to Breathe: My Yearlong Quest to Bring Calm To My Life, by Priscilla Warner
After traveling the country promoting a best-seller she co-authored (The Faith Club), Priscilla Warner was exhausted, out of shape mentally and physically, and worn out from battling an anxiety disorder which has caused her to have panic attacks for most of her life.
Fearing she was looking at her own mortality, she decided to "find her inner monk" and began a year-long quest to ease her mind and soothe her soul. The result is Learning to Breathe, a terrific book which takes us on her intimate journey from healer to healer, seeking peace and wholeness.
Priscilla's story is vividly revealed as she opens up and learns from meditation teachers Sharon Salzberg, Pema Chodron, The Dalia Lama and others. She does yoga, Trager Technique, Somatic Experience Therapy and EMDR among other therapies. Priscilla goes to a mikvah, visits with psychotherapist and guided imagery pioneer Belleruth Naparstek, and talks Ayurveda with Robert Sachs. And as her meditation technique becomes more proficient, she even has her brain studied by Andy Newburg at the University of Pennsylvania.
All the while, Priscilla is getting to the root of the cause of her severe panic attacks, which she describes in heart-breaking, dysfunctional family detail. All this hard work allows her to release the attacks and settle into a more peaceful, calm life with her clearly supportive family.
Most of us cannot take a year off to meet so many teachers and healers, (but maybe we should!), so take a vicarious healing journey by reading this book, find what resonates with you, and dig deeper.
Find your inner monk, and meet some of the worlds greatest healers, by following a year in the life of best-selling author Priscilla Warner as she seeks a path for healing her panic attacks, and reclaiming her life.
This review was first published in Shelf Awareness.
I may be one of the only women in America who has had food issues but never read Geneen Roth's bestseller When Food is Love. But now that I've come across her wonderful new book, Women, Food and God, I will go back and read it because I can't get enough of her!
The new book is filled with the wisdom of Roth, who struggled with her own weight for years (she says she has gained and lost over 1000 pounds), and also with the wisdom of women who have attended her retreats. Roth also quotes from some of my favorite people, including Mary Oliver and Byron Katie.
Roth's path to wholeness mirrors my own in that at a young age she learned about meditation and began attending silent retreats. As with me, those retreats opened up in her new paths to well-being and created a foundation for further inquiry and study, and, now, as a teacher.
I love how she describes the retreats she leads and the reactions of her students (basically - they want to kill someone at first. But eventually they settle in and never want to leave!)
Roth writes in such an easy, conversational manner. I'm discovering that so many women are now writing in this easy voice of experience - trusting their own story. They quote each other often and share their life stories with little censorship, as if talking to a friend. They are incorporating knowledge from all corners and are willing to sh are it in the hope of helping others.
This book is about women who struggle with food, self-confidence, self-love and acceptance. Roth offers concrete advice taken from her own life - not theory or academia - this is what worked for her and hundreds of women who have worked with her.
While much of it is common sense (eat when hungry, stop when you are full) some of her "guidelines" could be looked at as radical by women who were taught that some food is "bad" and others "good". Eat what your body wants, Roth tells us. Eat with enjoyment, gusto and pleasure. Eat until you are satisfied. Really?! Wow - I'm so happy someone is shouting this loud and clear!! I agree 100%!
The book is easy to read yet contains profound moments that you will always remember. She says that for decades all the suffering she felt was expressed in her relationship with food. "Overeating was a way to punish and shame myself; each time I gained weight, each time I failed at a diet, I proved to myself that my deepest fear was true; I was pathetic and doomed and I didn't deserve to live".
Roth delves deeply into her own story in order for us to relate and to realize that we too can overcome these desperate feelings, to move on and enjoy life to it's fullest with out worrying about what our thighs look like! Once you begin to repair your relationship with food, your weight will begin to stabilize. As Roth says, it's not about the weight, but it's not not about the weight.
In the end you will learn what it means to be "married to amazement", how to love your belly (fabulous meditation technique!) and how to move forward on your path, whatever that means for you.
Committed: A Skeptic Makes Pace with Marriage
By the end of Eat, Pray, Love, Elizabeth Gilbert felt like an old girlfriend. I missed her. I traveled through Italy, India and Indonesia with her and then she was gone. Oh, she was on Oprah and opened an import/export business in New Jersey, but she dropped out of my life as she went about her business and I was left to troll through Google to try to find more intimate details of her life.
Now three years later she has come back to with an extremely satisfying update on where she's been and what she's been doing all this time! Turns out, her Brazilian man from Bali, "Felipe", (not his real name) was quite politely told by the Department of Homeland Security that he could not continue to stay in the U.S. on his temporary visa without marrying an American. And so it begins.
MARRY!? That word is an anathema to Elizabeth and Felipe as they both had failed marriages in the past. It was one of the main things that drew them together - their commitment to not ever formally committing again. But in order to stay together, they have to get married.
The title of the new book gives it all away: Committed: A Skeptic Makes Peace with Marriage. The word Committed is gracefully engraved into a gold wedding band. So we know they are going to get married but the road there is full of advice, research, history and drama.
Elizabeth reminds me of one of those friends who gush over everything - a bit melodramatic at times - but so thoroughly enjoyable that you forgive the histrionics because you know she's telling the story with honestly, integrity and love.
So I forgive her some details I didn't need to know - like how much she loves Felipe: she loves his Hobbit-like feet; that he says lulu-bell instead of lullaby; he can't keep names of celebrities straight so we get George Cruise and Tom Pitt. But sometimes when a friend reveals tidbits like this we can nod and chuckle but we want her to get on with the rest of the story!
While Liz and Felipe await their fate, they decide to travel the world and hang out in some inexpensive countries. (Why, did they do it on the cheap? Eat, Pray, Love surely put a few shekels in her pocket!) While on the road, the ever-inquisitive Gilbert researches the institution of marriage. Liz interviews Hmong women in a tiny village a train-ride from Hanoi on the China border. "When did you fall in love?" she asks a group of women. Gales of laughter ensue. She delves into the Bible; digs deep into her own family's history; consults a Rutgers study called "Alone Together: How Marriage is Changing America," all in hopes of persuading herself that it's ok to marry a person you love.
All the anecdotal evidence doesn't quite convince her why she should get married, but when she settles into her everyday life with Felipe, as they await word from Homeland Security, she really begins to investigate her own situation. The book is at its loveliest here - when Liz's true voice emerges. Much like her contemplative time in India in Eat, Pray, Love, her authentic tone is moving and compelling. Even the fairy-tale ending of the book feels ok (a storybook wedding in the old church that is now their home, dog curled up at their feet, even the Republican Mayor who performs the wedding has a good sense of humor).
Like visiting with a cherished friend who you want to catch up with, while reading Committed, you'll laugh, you'll cry, and you may occasionally look at your watch, but in the end you'll be happy you spent so much time together.
The Age of Shiva by Manil Suri
Manil Suri is a treasure who happens to live right here in Baltimore - he teaches mathematics at UMBC. He is also one of the most delicate and subtle writers I've ever read. The Age of Shiva is his second novel. The first one, The Death of Vishnu, is actually on my bedside table but I haven't read it yet.
The Age of Shiva is written from the point of view of a Delhi woman named Meera. From the start, Suri describes her with such deep sensuality it's almost impossible to believe a man wrote this. It's like he was channeling this woman who tells us her story. In that way it reminded me of Memoirs of a Geisha, in which Dan Goldin did much the same thing.
But I'm so into India now, that I'll leave China out of this. Anyway - the story is just so surprising. I never saw anything coming. Meera is married off to someone beneath her class by a father who seemingly wants to teach her a lesson, but the same Paji later reacts so strongly to her lifestyle that her forces things upon her like a college education and a sort of radical feminism (for India in the 60s anyway). It rings true because it's inconsistent, complcated and capricious - just like humans are!
The story revolves around Meera's relationship with her son, Ashvin (Suri calls it in the books notes "maternal rapture"). It's a deeply personal story as their relationship mirrors the Hindu tale of Shiva and Parvati. the mother-son relationship is so complicated and told here with an aching beauty. It's impossible to tell who is right or wrong - it's just a tale of life.
The book was hard to put down in part because I never knew what would happen next. And also the history of India in the time of Indira Ghandi is fascinating.
The background political situation is perfectly laid out and easily fits into the story line. I loved this book. I was so sad to finish it. I slowly made my way through the last 50 pages because I didn't want it to end. I will miss this complicated characters and I hope to visit them again one day. Next up for sure is Death of Vishnu.
Jeff in Venice. Death in Varanasi by Geoff Dyer
This was one is a mesmerizing novel -- really two novels in one. The Jeff in Venice is a British journalist (his last name is Atman, which means "self" or "soul" in Sanskrit) living an empty, sad life whose highlight of the decade seems to be that he decided to dye his graying hair black. The effects of the new color seep into every aspect of his life, finding new vigor and excitement as he leaves for Italy to attend the art world's main international event, the Biennale. Between the drinking and parties he finds an American named Laura. For a few days, they share a cosmic connection, creating a fire in him he hasn't felt in years. Skip forward a few months, and Jeff Atman receives an assignment in Varanasi, India. After a few weeks there, he begins to melt into the crowded city on the Ganges, slowly losing himself in the streets and ghats of this magical town. He strips down to his pure essence -- his atman -- leaving behind his possessions, his memories, and soon his clothes, until he is left a shadow of a man, a renunciant wandering through the ashes and bones of cremated people and animals along the far banks of the Ganges. This is a story of a man finding himself, losing himself and finding himself again in that loss. It's achingly sad in places, surprisingly funny at times, and overwhelming beautiful in the end. This book will be released in April. I hope you will take a trip with Jeff thought Venice and Varansai.
The Art of Racing in the Rain
I'm not a dog person. We had a few dogs growing up - Sunshine, Tiger and Brandy. I loved them so much. But they all died. The heartbreak was too much, I guess. As an adult I've never owned a dog. I don't get all ooogy over puppies, I don't wish I had one...so why in the world did I pick up this book - which is narrated by a dog? And is about racing cars to boot - also not one of my favorite hobbies?
I decided to read Garth Stein's novel because of a tenuous connection to him. I write for a newsletter called Shelf Awareness (the BEST on-line newsletter for the entire book industry). Jenn Risko is the head of sales for S-A and she befriended Garth Stein in a Seattle coffee shop and eventually helped him secure a $1.5 million bid on this book. I love Jenn. So I thought I should read the book.
Oh my - I had no idea...this is the best book I've read this year and easily fits into my top 100 best ever (I've read a lot of books). I laughed. I cried - I mean really cried - I was entranced. (full disclosure: for the final 75 pages or so I really had to pee but I couldn't tear myself away to walk the 50 feet or so to my bathroom! I didn't want to break the magic. Enzo is the "star" of this tale. A dog who heard a Tibetan proverb that he was in his last lifetime as a dog.
So Enzo decided to make the best of his last incarnation as a dog, and at the same time, study the finest traits of human beings so that he can come back as a stellar person. Ezno's owner, Denny, is a good human being - a fine one for Enzo to learn from. He is wanna-be race car driver, working as a mechanic - and he has a heart of gold.
Twists and turns of fate challenge everything Denny is about and Enzo witnesses it all. He tries to intervene when he can and offers his beautiful calming presence when needed. Without getting too much into specifics as I don't want to spoil anything, the story turns into a family drama - but never a melodrama.
Like the pacing of a racecar doing laps, the pacing of this novel is perfect. We are led around the track tasting both victory and defeat (Stein's writing is much better then my cliche-ridden review! trust me!) and ultimately such sweet satisfaction. I loved this book. I know you will too.
so many books
There are so many books on my bed side table (I know many of you can relate) that I don't know where to begin. Besides the bed side table, every table in my house filled with books. So many, in fact, that I've just purchased some beautiful new shelves from A People United (Charles St. in Mt. Vernon - did you know that have a basement filled with furniture from Asia?). I purchased the most beautiful shelves from India so the books that I have not yet read will be very happy.
Currently I read mostly books about Ayurveda. It's like coming home to me. It's like remembering past lives. Everything I read rings so true and seems to trigger deep memories.
some of my favorite titles include:
A Life in Balance by Maya Tiwari Perfect Health by Deepak Chopra
Ayurveda: The Science of Self-Healing by Vasant Lad Prakriti by Robert Svoboda
Ayurvedic Cooking by Amadea Morningstar Polarity Yoga by Amadea
Three Season Diet by John Douillard
Of course all the books are in the store - and many more!
page last updated on: March 24, 2012, 4:33PM